Considering a Tummy tuck or Liposuction cosmetic procedure to get rid of excess belly fat or an unsightly overhang? Take a look at this inspiring tummy transformation which is too good not to share.
A recent and inspiring tummy transformation
Tummy bulge and overhang is a common problem many people experience. It's also one of the most stubborn areas of excess fat to get rid of naturally and associated with increased health risks. This Cosmos Clinic client came to her cosmetic surgery consultation wanting to look and feel better in clothing as well as improve her overall health.
She opted for Vaser Liposuction to remove the excess fat cells from her upper and lower abdomen. Excess fat was also removed from her franks to help accentuate her natural curve and improve the overall proportion of her figure.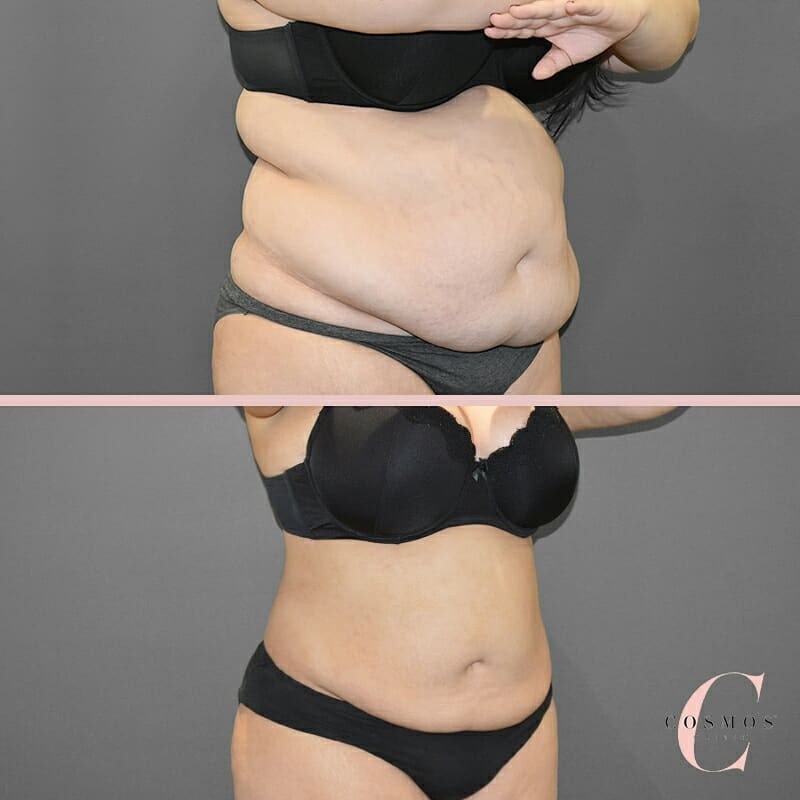 Incredibly, 7 litres of unwanted fat was removed during her cosmetic surgery. This helped to slim her stomach and reduce the size of her overhang. By using Renuvion in conjunction with Vaser Liposuction her cosmetic surgery team were able to further encourage skin tightening and enhance the overall appearance of her tummy as you can see from the images.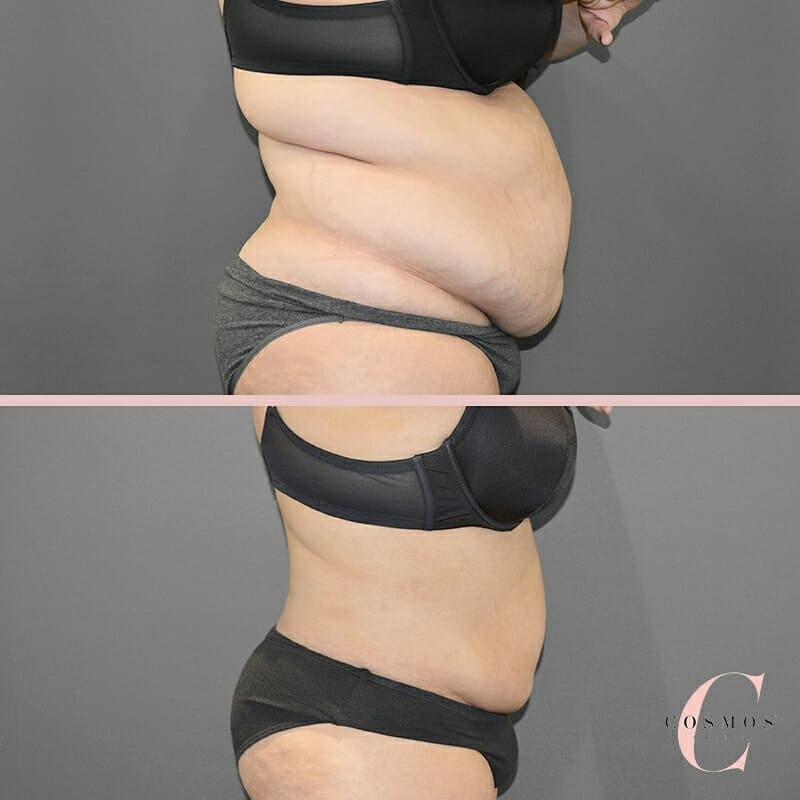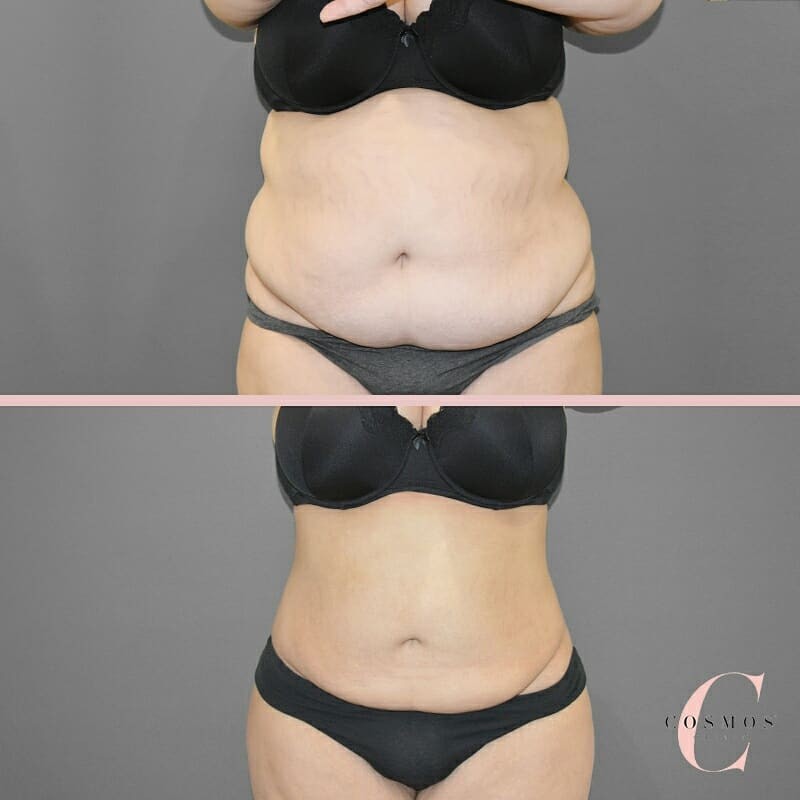 For this young woman, this cosmetic makeover was a great alternative to an abdominoplasty, also known as a Tummy Tuck. Unlike Vaser Liposuction, which is typically performed under conscious sedation, a Tummy Tuck is a much more invasive plastic surgery procedure.
The Cosmos Clinic team were able to achieve excellent, natural results without making large incisions to remove excess skin. With increased self-esteem, this client will now be able to feel more comfortable and confident in clothing and may even be spotted sporting a bikini come summertime!
Comparing tummy tuck and Vaser Liposuction
Both Vaser Liposuction and Tummy Tuck surgical procedures are effective at addressing stubborn belly fat and loose skin. Some patients may need to undergo an abdominoplasty to achieve the desired aesthetic benefits such as those who have experienced extreme weight loss or multiple pregnancies where they have stretched their abdominal muscles and skin beyond the point where it can return to normal.
For others, the less invasive cosmetic surgery procedure of Vaser Liposuction may be a better option. As you can see from the transformation above, doctors can achieve a great outcome by gently removing the excess fat and sculpting the figure to achieve a more desirable shape. Vaser Liposuction also gives patients the ability to reuse the fat removed as part of a Brazilian Butt Lift or breast augmentation during the same procedure.
Here we compare the two cosmetic procedures:
Tummy Tuck (abdominoplasty)
A large scar across the abdomen
Best for excessive loose skin or overhang
General Anaesthesia required
Prolonged recovery (1+ month)
Limited to the tummy area
Will repair muscle separation
A starting cost of $12,000-$16,000
Find out more about the Tummy Tuck procedure here.
Vaser Liposuction
Small incisions resulting in tiny scars
Will tighten moderately loose skin
Can be used with Renuvion to encourage greater skin tightening
Performed under conscious sedation
Reduced associated side effects and complications
Quick recovery (1 week)
Can treat the whole body to improve the overall shape
Will not help muscle separation
A starting cost of $4,400
Find out more about the Vaser Liposuction procedure here.
If you're wanting to discuss your own cosmetic surgery transformation, get in touch with the team at Cosmos Clinic. They will be able to help determine which cosmetic procedure is right for you based on your own needs and desires. You can call on 1300-138-797 or email us at [email protected].