Butts come in all shapes and sizes, with no two bottoms the same. Trust us, as a cosmetic surgery clinic, we see a lot of derrières.
There are, however, a few shapes we tend to see more often and 3 main shapes patients desire when they come to discuss a Brazilian Butt Lift procedure. Here, we take a look at the common butt shapes and show you some BBL before and afters to help you decide which butt shape is right for you.
Common natural bum shapes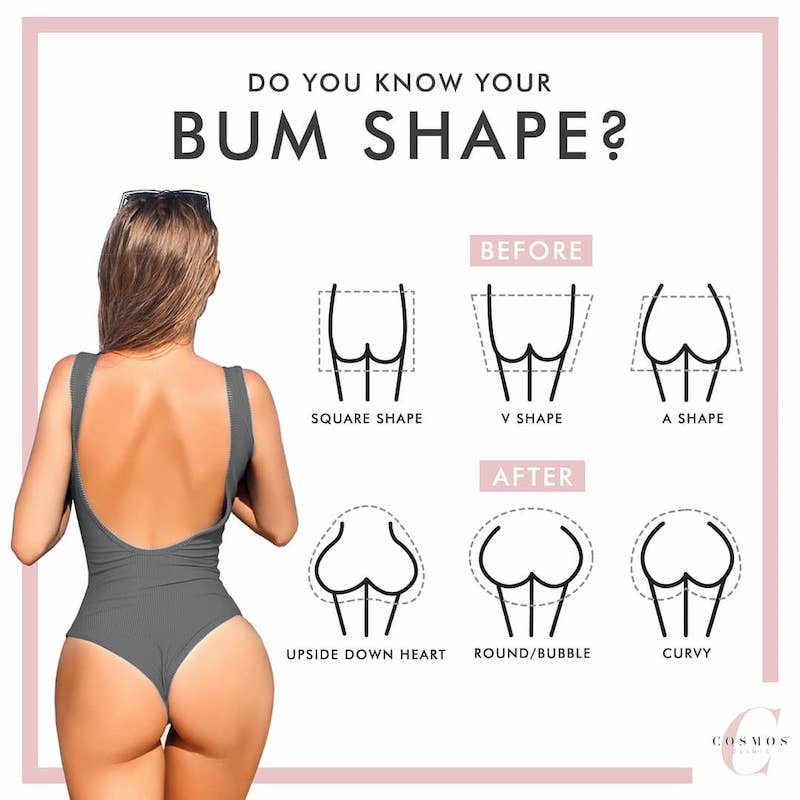 Square Shape
A square bottom tends to lack the feminine curves with its flat sides making it appear masculine. Women of this butt shape commonly complain about not being able to fill out their clothes and struggling with excess body fat distribution around the waist. Addressing this shape through a butt augmentation typically requires liposuction of fat cells around the love handles, lower back and abdomen before fat grafting to achieve a curvier, fuller buttock.
V Shape
Ladies with V-shaped buttocks typically have excess fat located on the top of the buttocks, outer thighs and waist. It's one of the more challenging shapes to alter naturally as muscle bulk targeted to the lower area of the buttocks is required. However, by strategically removing excess fat cells from the thighs and waist during cosmetic procedures, doctors can create a rounder and wider shape that's naturally in proportion to the rest of the body.
A Shape
An A-shaped buttock is often considered as the most feminine and desirable shape due to its narrow waist and wide hips. It's also commonly referred to as the heart shape and seen in women with an hourglass figure. Those with this natural buttock shape tend to consider cosmetic or plastic surgery to increase the size and perkiness of the buttock.
3 popular Brazilian Butt Lift shapes
There are three main BBL shapes we tend to get asked for at Cosmos Clinic – from small and athletic to round and voluptuous.
Small – Sports Illustrated
The Sports Illustrated BBL is one of the more popular buttock augmentation shapes requested, especially among women who are reasonably fit and slim. With a minimal amount of fat required for the fat transfer, a Sports Illustrated BBL can provide you with a perky, round bottom and fills out any visible hip dips.
Medium – Beyoncé
Going up a size is the Beyoncé BBL which focuses on creating a rounder and more voluminous buttock through liposuction contouring. Good candidates for this shape are those women with naturally wide hips, like A-shaped, and enough fat for the fat transfer component of the cosmetic procedure.
Large – Kim Kardashian
Finally, the largest of the Brazilian Butt Lift surgery types featured is the Kim Kardashian which is characterised by the volume generosity and large degree of projection. During the surgical procedure, much of the focus is on fat transfer into the upper and middle areas of the buttock to achieve the level of sculpting and shape. The final results of this BBL type rely greatly on the ratio of buttock size to the waist measurements.
Not sure which buttock is right for you? You can see more Before and After images of all three popular BBL body shapes on our Instagram highlights. Alternatively, get in touch with the team of cosmetic practitioners at Cosmos Clinic who can discuss which option would be suit your body shape and meet your desires of a more shapely behind. You can phone our team on 1300-138-797 or at [email protected].