Got some stubborn excess fat that simply doesn't want to shift but want a larger butt?
Brazilian Butt Lift is a popular cosmetic surgery procedure designed to enhance the size and shape of your buttocks. The use of liposuction also helps to contour other parts of the body by removing stubborn excess fat from areas such as the lower back, love handles and abdomen.
In essence, this can help you gain all the curves in the right places and enhance your buttocks at the same time.
Can I get BBL surgery if I'm overweight?
We often get asked whether plus-sized individuals are good candidates for BBL surgery. The answer is yes, but it does depend on your current weight and the final results may differ from those of an individual who is of a stable healthy weight.
Why is my weight relevant to my BBL cosmetic surgery?
Your Body Mass Index (BMI) is a relevant tool used to determine whether you are a good candidate for cosmetic or plastic surgery, including Brazilian Butt Lift surgery.
BMI uses your weight and height to inform whether you're in a healthy weight range and where you sit on the BMI scale. While it is a helpful measurement to understand your suitability and safety for surgery, it's only an estimate. It also has it's limitations as it doesn't take into account your muscle mass, body composition, age or gender.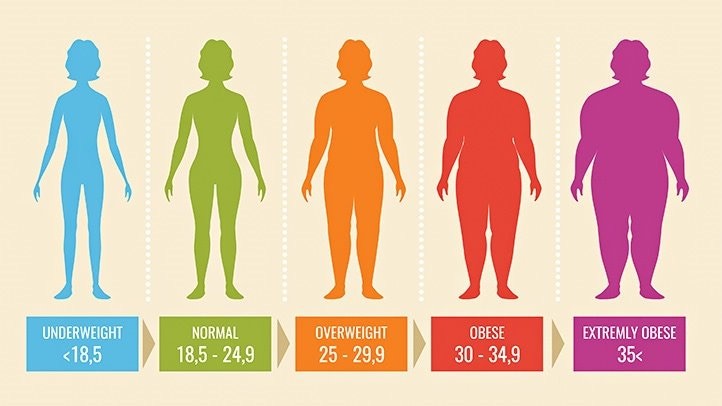 You can calculate your BMI here.
A normal BMI is between 18.5 – 24.9. Ideally, you'll want to aim for a BMI of less than 30 before undergoing any cosmetic or plastic surgery procedure.
Why?
Being of a BMI 25+ does increase your chances of post-surgical complications such as delayed or problematic wound healing, fluid collection, deep vein thrombosis or slow recovery time.
If you are sitting in the obese range with a BMI of 30+ and have high body fat mass, you may be encouraged to start a weight loss program to lose excess fat before your cosmetic procedure. It may also be advised you maintain the healthy weight for about 6 months to improve your body contouring outcomes.
This is also the case for patients who are underweight with a BMI of less than 18.5 as they may not have much fat available for a BBL surgery. The patient may be advised to increase their BMI and put on weight in order to have enough fat for the fat transfer and ensure a good result.
How does being plus size affect the results of my BBL?
If you are plus size and deemed a good candidate for BBL by your doctor, the procedure might differ slightly from that of someone of a smaller size.
Using liposuction, the cosmetic practitioner will attempt to make the waist as small as possible removing the excess fat from areas such as the tummy and love handles. This will naturally create an hourglass figure without the need for extensive fat grafting in the buttocks and hip region.
This means you may not require as much fat injected into the buttocks to create the size and shape you require to get that 'Kim Kardashian' inspired derriere.
On average, our cosmetic practitioners inject 1,000 – 1,200 MLS of purified fat per buttock cheek. In some cases, we may inject up to 1.8L of the patient's own fat into each cheek. For a plus-sized patient, this may be less depending on the liposuction results and the overall look they desire.
If you're plus size and want to know whether you're a suitable candidate for Brazilian Butt Lift surgery, get in touch with the Cosmos Clinic team on 1300-138-797 or at [email protected]. We'll discuss your options based on your individual body composition and desires for the buttock augmentation procedure.