Liposuction Under the Arms assists in contouring the shape of your arms so you feel confident and beautiful.
Getting Liposuction under arms is useful for people who develop fatty deposits around their arms. These fatty deposits create a downward bulging of the upper arms or flabby, "bats" arms. Neither of these is appealing, but something can be done about it!
Liposuction Under the Arms helps to improve any disproportionate appearance of your arms in comparison to the rest of the body. It can provide you with the confidence to wear that sleeveless shirt in summer, and not have to hide those big, flabby arms away behind a grandma cardigan ever again!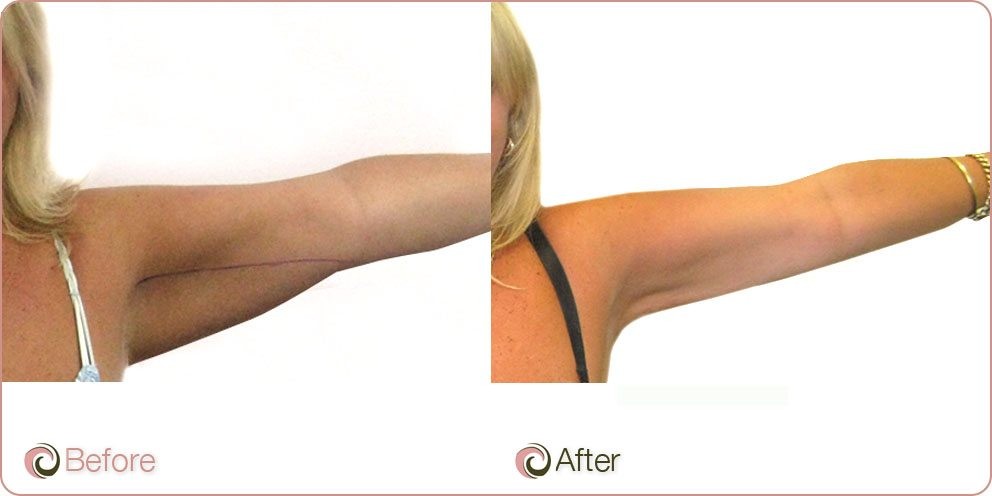 Reasons for Considering Liposuction: Under Arms
Liposuction Under the Arms decreases stubborn areas of fat that cannot be reduced with exercise and diet alone. It can:
Reduce loose and sagging skin from rapid weight loss that is resistant to exercise and diet
Help to create a more balanced and proportionate figure
Decrease unsightly stretch marks and other scarring
Increase body confidence and promote an improved self-image
At Cosmos Clinic, Liposuction Under the Arms is well tolerated through the use of Vaser Liposuction; the latest in Liposuction techniques. This gentle technique uses ultrasound technology to help break down the fat into a smoother product so that removal is much easier and does not require the brute force of the surgeon to break down the fat. Vaser Liposuction also tightens the skin. This results in less bruising, shorter recovery and more consistent results.
Further, at Cosmos Clinic, twilight sedation is used. It is up to you whether you want to use the time of the procedure to relax or to talk to our friendly nurses and doctors. The benefit of twilight sedation is that you can get up after the procedure so the results can be seen straight away. If anything needs to be corrected, it can be done then and there.
Liposuction Under the Arms usually takes about 2 hours when performed on its own. A compression garment is required to be worn afterwards to assist in the healing process and reduce any swelling.
Liposuction Under the Arms can provide some excellent benefits in terms of your physical health and emotional wellbeing. Of course, the decision should be yours and yours only. However, having made the right decision for you, you will be on the path to joining the hundreds of women and men who undergo Liposuction Under the Arms every year, and who are delighted with the results.
For more information or to book an appointment, please contact Cosmos Clinic today.