Cristiano Ronaldo is one of the world's best football players with an ego to match. While the Real Madrid player's on-field football skills are outstanding, it's not what has everyone talking. It's his superstar looks that are making headlines.
Over the years, the 31-year-old has transformed his goofy teenage looks into one of football's most famous perfect faces, sparking rumours his appearance has been enhanced by cosmetic surgery. From his smooth complexion and erased lines to his ultra-white teeth and manicured brows, questions of how much work Ronaldo has had done are rife.
According to a Portuguese magazine, for Ronaldo to achieve his perfectly smooth face he would have spent "several thousand euros in cosmetic surgery" over the years. The magazine also suggests the footballer may even have an addiction to correcting the "slightest defect"; a comment largely based on his Instagram account.
Looking at Cristiano Ronaldo cosmetic surgery rumours
The champion footballer has never responded to the cosmetic surgery rumours, instead his sister Katia Aveiro has taken to his defence. "I think it is nonsense. They see qualqu'un wearing a care mask on the face, and they begin to talk about Botox. This is not information," she says during a Portuguese television interview.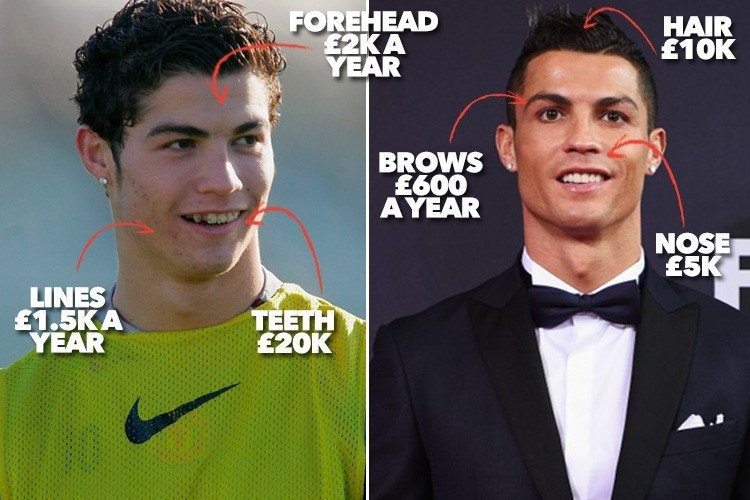 We thought we'd let you decide. Here's a look at Ronaldo's cosmetic surgery rumours:
Forehead
Experts believe his smooth, line-free forehead can be accredited to regular Botox injections. What was once considered a furrowed brow during his playing days for Sir Alex Ferguson is no longer. Anti-wrinkle injections are a popular way to create a natural look, erasing forehead and frown lines as well as providing an eyebrow lift.
Cheeks and Nose lines
Dermal fillers are believed to be the reason the deep lines around Ronaldo's mouth and nose have softened. The minimally invasive procedure is designed to restore volume and improve wrinkles to provide a more youthful appearance.
Teeth
Once describing himself as a young player who "was small, feeble and had crooked teeth", Ronaldo's orthodontic treatment has certainly changed that. The star's perfect veneers have replaced the gaps, uneven and discoloured teeth with a perfect smile that have women swooning.
Hairline
In 2013, Ronaldo attended a Monaco gala displaying signs of a receding hairline. Not wanting to give in to the inevitable baldness, it's believed the footballer has received treatment to improve his hairline. The question is, has Ronaldo undergone Platelet Rich Plasma to thicken up his groomed locks?
Nose
Perhaps one of the more controversial rumours of Ronaldo's appearance surrounds his nose. Experts have longed questioned whether the star has had some minor shaping to the tip of his nose which now appears narrower than it did ten years ago.
Eyebrows
While plucking is not cosmetic surgery, Ronaldo's manicured brows have become a signature of his looks, illustrating just how invested he is in maintaining his perfect appearance. No longer sporting the bushy, dishevelled brows as he did in 2003, Ronaldo is likely to frequent trips to the salon for a good shaping.
Cristiano Ronaldo's ruthless diet and fitness regime
According to the football star's coach, Ronaldo's performance on the soccer field and muscular physique can be accredited to his discipline in the gym and kitchen.
One of Ronaldo's most talked about assets is his sculpted abs. His coach says Ronaldo shows great discipline training three to four hours of resistance, cardio, sprints and technical drills, five days a week to keep his body in shape.
The footballer's protein-rich diet also shows true dedication. Ronaldo is said to consume six small meals a day, loaded with vegetables and protein, to maintain and regulate his metabolism and help with muscle repair. Sugar is off the menu and he takes a variety of supplements from joint vitamins to protein shakes.
For a layman to follow Ronaldo's ruthless diet and fitness regime, you'd have to dedicate most of your time and energy to focus on training and eating healthy 100 percent of the time. There's no room for "cheat" or rest days if you want to achieve a similar muscular physique.
Unfortunately, achieving Ronaldo's perfectly sculpted abs would be a feat. To achieve a six pack like the superstar's you'd need to work towards a body fat percentage of 10 percent or less, which for even the very disciplined person is very unrealistic.
The rise in healthy and fit men and women undergoing Vaser High Definition Liposuction is proof achieving a Ronaldo six-pack is near impossible, while still highly desirable.
For those who already workout to maintain a good figure, the gentle liposuction procedure acts to create a more sculpted and athletic shape. With permanent results, candidates have the peace of mind if they have a "cheat meal" or enjoy a rest from training on a Sunday, they won't compromise their abdominal definition.
Ronaldo's career success rests on the footballer focusing 110 percent on his soccer skills, endurance, and to a great deal, his appearance. Unless you're about to commit and become as disciplined as Ronaldo, you're unlikely to replicate his desirable physique anytime soon. Sorry to break it to you!
We're not anticipating Ronaldo to clear up any of the cosmetic rumours anytime soon as he continues to focus on his form and appeasing his sponsors. What we do know is the star continues to feed the rumours on his social platforms where he shows off his picture-perfect looks and modelling talent.