Have you ever looked at photos taken of yourself and been shocked by what you saw? Maybe you noticed excess fat around your jowls, a turkey neck, excess skin or even a double chin. You're not alone feeling self-conscious about your neck. Many people in their late 30's and early 40's notice that their neckline wasn't what it used to be.
And while it may seem like a weird place to store fat, many people have a stubborn fat deposit under their chin that can make them look heavy and bloated. If you're fed up with trying to cover the fatty tissue around your neckline with scarves, facial hair and facial exercises haven't worked, there is a solution. Neck liposuction is a minimally invasive liposuction procedure that redefines your neckline by removing excess fat from your neck area. For over 10 years, Cosmos Clinic has treated thousands of men and women who have double chins and the dreaded turkey neck using Vaser Liposuction – a minimally invasive fat removal procedure. This plastic surgery melts away excess fat and loose skin while tightening the skin, resulting in a more youthful and attractive appearance. Our neck liposuction is effective for all types of excess fat.
From mild to moderate and severe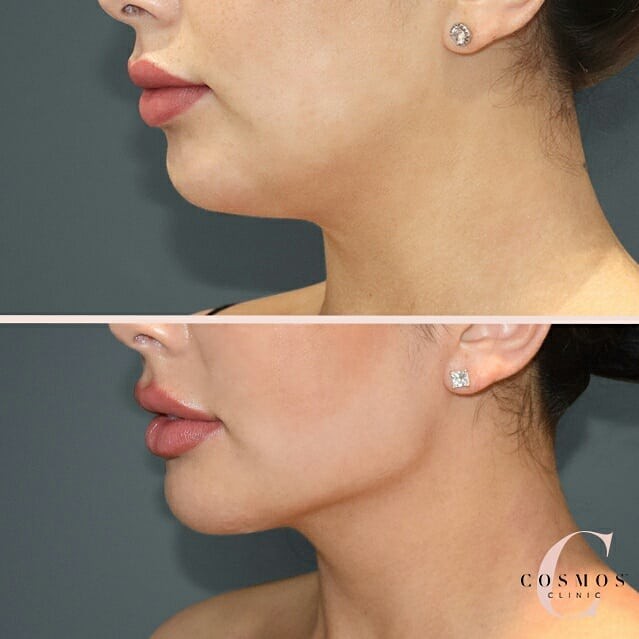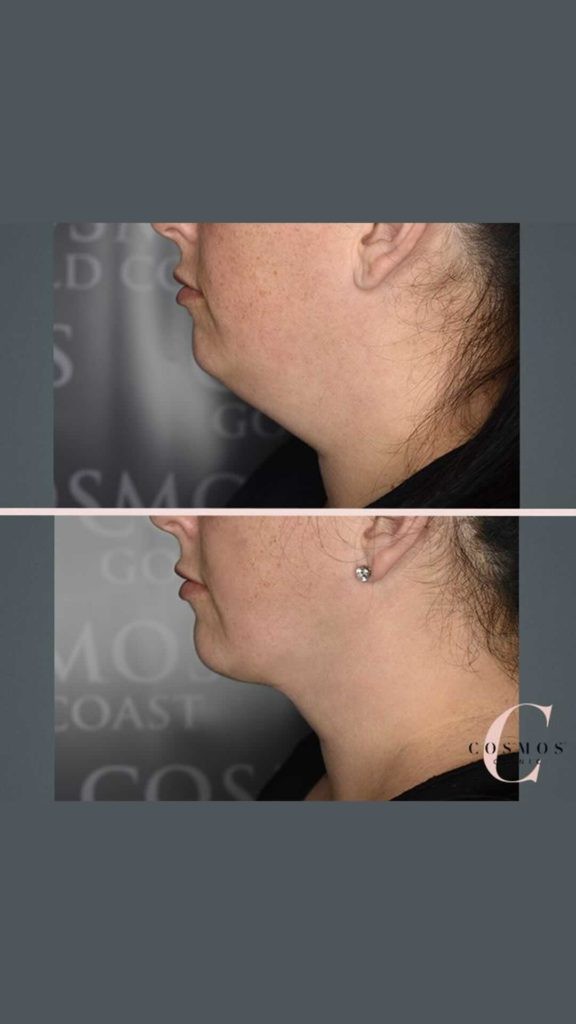 What is neck liposuction?
As a result of the natural ageing process, the appearance of your neck can change. From excess fat and droopy jowls to a double chin that sticks around no matter how much you diet or exercise. Vaser Liposuction eliminates fatty deposits and fatty tissue by making a tiny incision to place an ultra-thin fibre placed under the surface of your skin. Laser energy is used to heat up the collagen and elastin fibres in your neckline, causing them to contract. At the same time, the fat deposits melt away and are removed from your body.
Neck liposuction is a day procedure that is effective for people who despite exercising and eating a healthy diet, can't shift their neck fat. Depending on your age and the thickness of your skin, over a period of 6 to 12 weeks after neck liposculpture, your skin will tighten. If you have droopy jowls, your Cosmos Clinic doctor may suggest you also have lower face liposuction, also known as Vaser facelift.
Benefits of neck liposuction and chin liposuction include:
Ideal for men and women.
Minimal downtime required with long lasting results.
A more defined and sharper angle to your jawline and neck.
No lifting or cutting of your skin.
How neck liposuction surgery is performed using Vaser Liposuction
With over 10 years of experience, Cosmos Clinic has performed over 15,000 procedures at our clinics in Sydney, Adelaide, Canberra, Gold Coast and Melbourne. Neck liposuction is a minimally invasive surgical procedure that rejuvenates the shape of your face and is a good solution for people who have ill-define necklines. For some patients, the tightening effect of this plastic surgery can eliminate the need for a lower facelift.
Cosmos Clinic neck liposuction procedure takes about 1 hour under twilight sedation. The treatment area is numbed using local anaesthetic before small incisions are placed under your chin and behind each earlobe to allow your doctor to remove the excess fat and tighten the skin of your neck and jawline.
As a minimally invasive surgery, most patients return to their normal activities within a day or two. You can expect to have some swelling and minimal bruising for 3 to 7 days after your neck liposculpture procedure. To improve skin retraction and reduce swelling and bruising, you'll need to wear a compression garment for 3 days full-time and another 7 days part-time after neck liposuction surgery.
Where to get neck liposuction in Australia
Neck liposuction is ideal if you want to improve, tighten and smooth out your neck muscles and neckline without having a full neck lift. The cost of neck liposuction will depend on your expectations and overall situation. Cosmos Clinic neck lift prices start from $4,000 with an initial consultation priced between $150-$200.
We treat many interstate patients every year at Cosmos Clinic. When you complete our contact form, simply nominate the clinic you'd like to have your neck liposuction at.
Cosmos Clinic can give you a more defined and youthful looking neck. Simply send us a message online with photos and list your concerns. We'll then send you a fact sheet and more information for you to consider. An initial consultation will determine if neck liposuction is appropriate for you. A referral is not needed. At your consultation, you'll meet one of our doctors where they'll:
Discuss your treatment options.
Evaluate your medical history including any risk factors or pre-existing health conditions.
Examine your neck and jawline.
Discuss likely outcomes for your neck liposuction procedure.
Explain what the day surgery will be like including the anaesthesia used.
For people with excess neck fat, good bone structure and minimal skin laxity, neck liposculpture using Vaser Liposuction can give you a dramatic improvement in how your neck appears. While neck liposuction can be performed alone, some people choose to have additional Vaser Liposuction procedures at the same time that could include Mummy Tummy Liposuction, Male Tummy Liposuction, Female Back Love Handles Liposuction or Thigh Liposuction.
Neck liposuction surgery may be appropriate if you:
Are fed up with worrying about how you look in profile pictures.
Have tried dieting and exercise but your double chin isn't budging.
Have older family members who have a double chin or turkey neck.
Experience low self-esteem or are embarrassed about your neck skin and neckline.
Neck Liposculpture (lipo) can leave you with a sculptured, contoured neckline and often enhances your facial profile
Before you book your neck liposuction procedure in, we suggest you get answers to the following questions from your doctor or liposuction expert:
What training and certifications do you hold?
How many years of plastic surgery experience do you have?
How many neck liposuction procedures have you performed?
Do you have up to date before and after photos of your neck liposuction procedures?
What are the side effects and what is recovery like after neck liposuction?
Find out how we can get rid of your double chin and turkey neck with our experienced doctors at our clinics in Sydney, Adelaide, Canberra, Gold Coast and Melbourne. Get information about liposuction cost by contacting us here.