The Korean beauty industry is set to make another big impact in 2016 with a range of innovative ingredients and products to hit the market. Here's our scoop on Korea's 2016 beauty trends that are expected to dominate.
1. Sparkling powder face bath
While you may be accustomed to adding carbonated mixes to your gin, sparkling powder for face masks are set to be a hit in 2016.  This cleansing technique has originated from Japan but has become popular by Korean celebrities due to its unrivaled ability to deeply clean out your pores.
How does it work? Simply add the sparkling powder, like this lemon formulation from Mizon, with tap water in a bowl letting it dissolve.  Submerge your face into the water for about a minute before lightly drying with a towel.  The bubbly fizz should not only make your skin feel cleansed and refreshed, but also feel firmer and toned.
2. Seaweed face mask
When you are done cleaning it's time to hydrate and nourish your skin with a kelp face mask. Seaweed is packed with nutrients and vitamins that have become known to have amazing benefits for the skin including combatting the dreaded acne and hyperpigmentation.
Whamisa's Organic Sea Kelp Facial Sheet Mask claims to be the ultimate form of hydration for your skin and instantly give you a glowing, clear complexion.
3. Topical anti-wrinkle gel
There have been many beauty products on the market that claim to produce the ultimate anti-wrinkle effects providing you with fuller, smoother looking but have been unsuccessful when competing with anti-wrinkle injections. The Korean company Midaskin promises to have developed a product that will rival injections you receive at a cosmetic clinic.
BoLC A+ is claimed to be a cosmetic breakthrough that uses botulinum, which is the same ingredient used in the injections used by cosmetic practitioners.  95% of the amino acids used in the BoLC A+ topical gel are the same as anti-wrinkle injections.  The 5% difference is due to the administration of the products – one injected, the other topical.
The brand and the innovation ingredient has been officially approved by the International Nomenclature of Cosmetic Ingredients and is expected to be highly popular in the Korean beauty marketplace in 2016.
Not only is its popularity driven by being a highly accessible product, with no need for a visit to the cosmetic practitioner, the promised effects seem to be impressive.  The results of smooth fine lines and wrinkles with a natural, lifting effect have, in clinical trials, shown to last up to three to four weeks before the BoLC A+ will slowly wear off.  Only time will tell how successful this product will be.
4. Facial contouring
Celebrity Kim Kardashian introduced the world to contouring a few years back, but since then it has undergone many transformations and in 2016 Korean's are expected to put their own spin on the make-up technique.
By highlighting the centre of their face, Korean's can achieve their ideal face shape known as "V-line" which is a soft oval with a dainty, elegant chin.  Concealer under the eyes and shimmery tints along the brow, the nose and chin will make the facial features appear smaller, which is highly desirable in Korea.
5. Ombré lips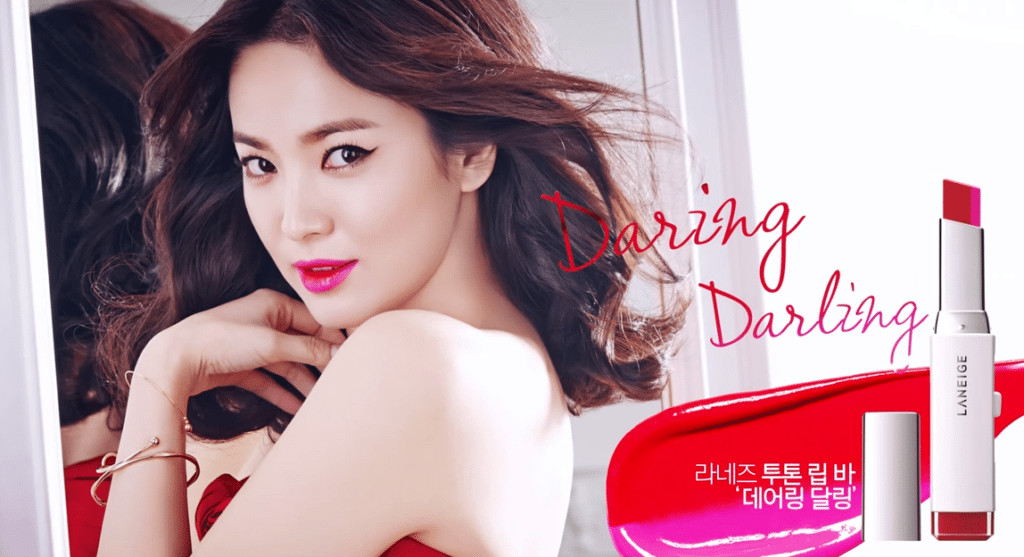 The trend of Ombré hair shading was a big hit worldwide in 2015 and is set to continue along with Ombré lips. Gradually blending two or three shades of lip colour from dark to light is a great way to fake fullness without appearing to be overdrawn with lip liner.
Now you don't even need to use different lip colour products.  Make-up companies like Laneige have jumped on this growing trend and created a two in one lip bar. Creating the Ombré lip effect now couldn't be any easier.
6. Reduce the wrinkles with an LED device
 There is no doubt, personal LED devices are going to be one of the biggest beauty products for 2016 and especially in Korea.  The sophistication and usability of these machines have never been better and what's going to be driving the trend is the price and capability of the products.
The mask shaped device sends wavelengths through the skin's outer layer and penetrating deep within the skin.  This increases the collagen levels, reduces wrinkles, and improves the appearance of scars and hyperpigmentation.  Not only this, the LED devices can even measure your skin health.  Consider it the latest Fitbit for your skin!