Loose skin, crow's feet and eye bags are common signs of ageing. In the past to retain their youthful appearance, people went under the knife opting for surgical procedures to rejuvenate the eye area.
Today, minimally invasive procedures like non-surgical blepharoplasty are proving to be popular alternatives. They require little downtime, typically cost less and give you youthful results without much discomfort. Using the latest techniques in cosmetic surgery, a non-surgical eye lift treatment could be the answer to your sagging skin and stubborn fine lines around the eye area.
See the non-surgical eyelid lift procedure in action here:
A non-surgical eyelid lift procedure that utilises the latest technology
A traditional blepharoplasty requires a scalpel cutting through the skin to lift the upper eyelid and tighten the targeted area. Thanks to a Plasma Generator device, this non-invasive procedure lifts the eye area and treats the dreaded wrinkles and darkness that comes with ageing.
How does it work?
The plasma device helps to stimulate instant contraction and skin tightening around the eye area. As you can see in the video, small, pin-prick holes are created in the skin with the plasma generator. Gas passes through an electromagnetic field creating ionised gas particles resulting in plasma energy.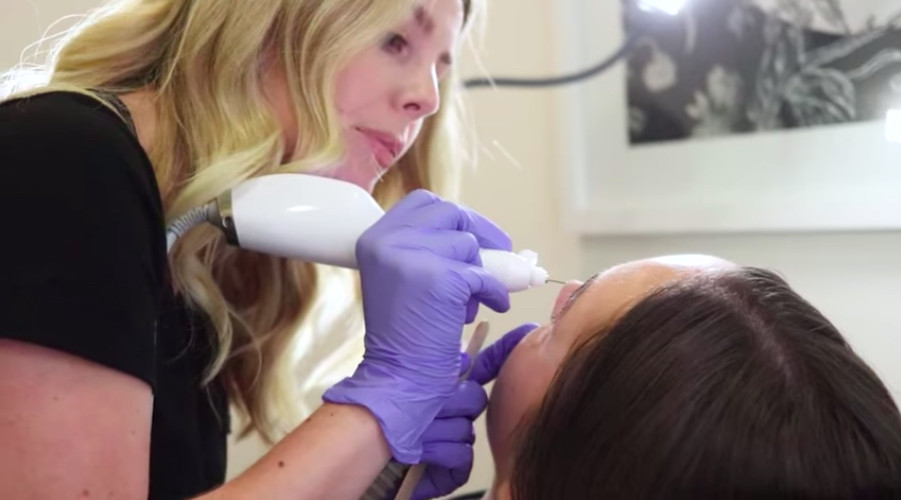 This plasma energy turns the skin of the targeted area into a gaseous state, shrinking the elastic skin fibres. This results in a more youthful appearance, similar to that of traditional eyelid surgery.
The benefits of non-surgical eyelid lift
For those looking for a non-invasive cosmetic procedure for treating sagging skin and unwanted wrinkles around the eyes, this new treatment could be for you.
The benefits of a non-surgical eyelid lift include:
No use of scalpel or laser to remove excess skin;
Minimal discomfort with only a topical anaesthetic cream required;
Reduced recovery time with only 3 days of swelling and 5 days of visible brown dots;
Treats a variety of skin conditions including acne, rosacea, scarring and ageing;
An affordable alternative to traditional blepharoplasty interventions;
Avoids the risks that come with invasive eyelid lift surgical procedures;
Results expected to last for 2-3 years.
Want to see the results of a non-surgical eyelid procedure for yourself? Explore our before and after gallery to see how Plasma Generator technology could provide you with the youthful results you're seeking.
Have a question? You can contact our team here or call us at 1300-138-797 for further information or arrange a consultation.