Most post surgery Brazilian Butt Lift (BBL) photos you see are taken approximately 6 weeks after the cosmetic surgery is performed. This is a time when most bruising has subsided, swelling reduced and true results become more visible. 
We're fortunate to have the opportunity to share a Cosmos Clinic patient's BBL journey from the beginning to 1-year post undergoing the Brazilian Butt Lift procedure. In a video posted on our Instagram feed, we share the patient's before photos and follow up images so you can see long-term final results of the cosmetic surgery. 
The patient also shares photos of her BBL surgery results while wearing figure hugging clothing. This may help you visualise what your results may look like after receiving liposuction and fat transfer during your own buttock augmentation procedure. 
Immediate transformation 
As you can see in the photos taken 3 and 6 weeks after the Brazilian Butt Lift procedure, the patient's shape has immediately changed. By removing excess fat from the love handles and lower back using liposuction, the cosmetic practitioners have been able to contour her figure, creating the desired 'V'-shape. The patient's inner thighs have also been contoured in the process.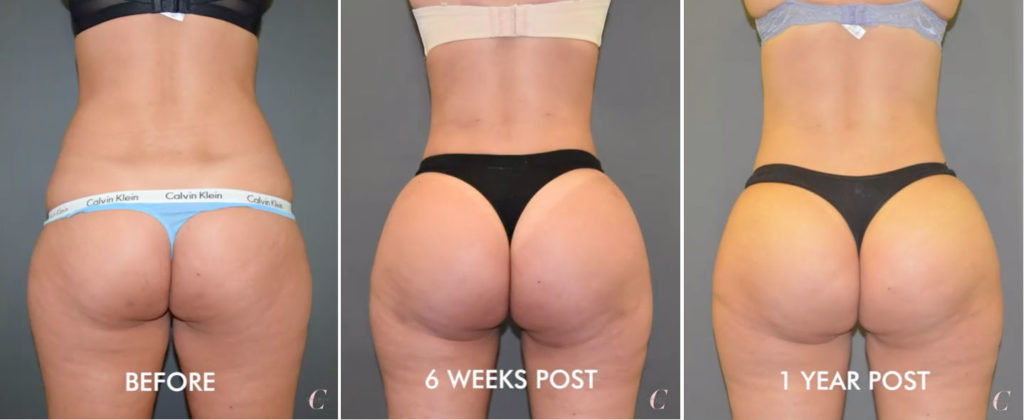 Most of the fat injections were targeted to the upper two-thirds of the buttock so that a smooth 'S' shape can be achieved. The liposuction and fat transfer work together to accentuate the shape of the buttock.
See more Brazilian Butt Lift Before and After photos here.
Naturally curvaceous results 
Fast forward to 1-year post the Brazilian Butt Lift and you'll notice the final results are a naturally curvaceous figure. While the lift and full shape have remained, with no swelling, the appearance of the patient's derriere is much more natural.
A softening of the buttock size and contouring has also occurred due to some fat cells dying after the transfer. Experience tells us about 80% of fat cells injected survive the fat grafting and will remain long-term.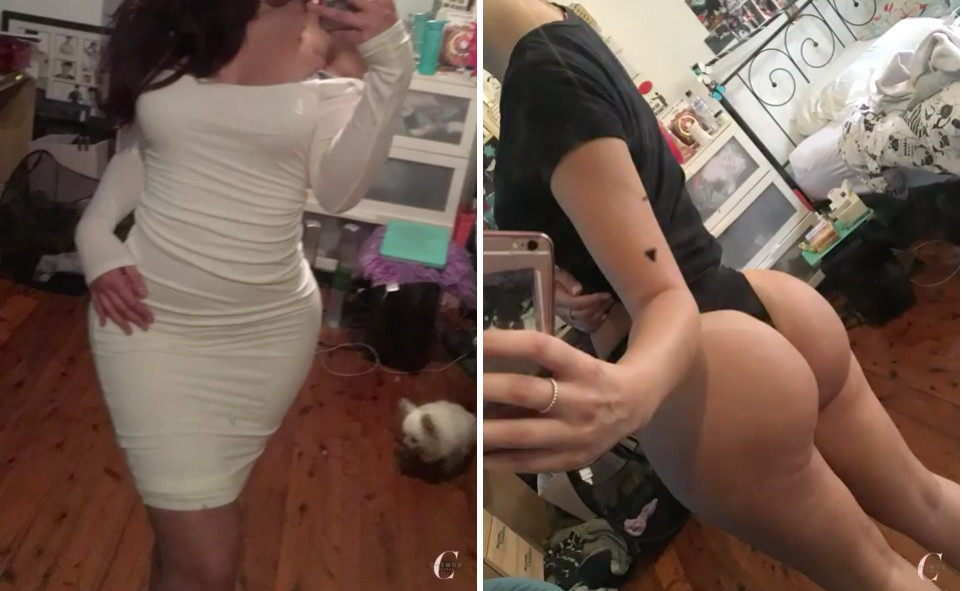 You may also notice the scarring is minimal and doesn't prevent the patient from showing off her new figure in revealing underwear. If this is a concern for you, read more about scarring after BBL and Vaser liposuction here.  
Beyond the final results of an enhanced derriere and naturally curvaceous figure, we've noticed how confident this patient is in her own skin after the Brazilian Butt Lift procedure. 
Discover more about the BBL procedure here or find out if you are a good candidate for cosmetic surgery by contacting the Cosmos Clinic team here or calling on 1300-138-797.