No amount of work at the gym or healthy diet could achieve the look Lee Coupland desired.  The 31-year man from Leeds travelled to Turkey to undergo a cosmetic surgery in order to create the perfectly defined six pack.
Coupland's desire for sculptured abs was fulfilled through a procedure called 'abdominal etching' where fat is removed from between the muscles of the stomach costing $7,170.00 ($9,950 AUD).  While this procedure is not as popular as breast enhancements or nose jobs, there is growing interest.
The Turkish doctor who treated Coupland disclosed he had consulted with seven British men last year for the same abdominal etching operation.
And if you think this cosmetic surgery procedure is for those wanting to skip the gym sessions and eat a more relaxed diet, think again.  Men who are carrying more than two centimetres of fat in their abdomen are not considered suitable for abdominal etching.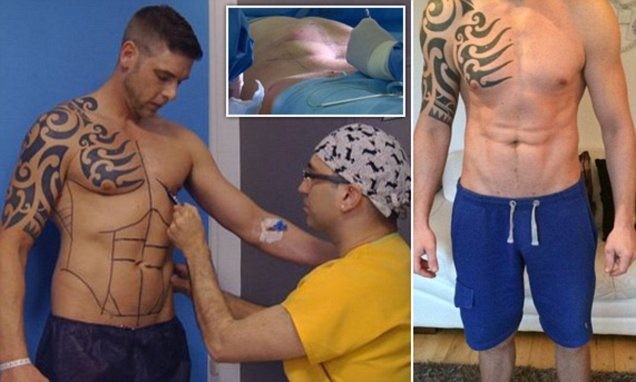 "In that procedure the doctor got me to tense up and actually feel where my grooves are so they could draw on my natural lines."  The fat is then melted down through the use of ultrasound and drained in order to create more definition and emphasise his muscles.
"The second part of the procedure is laser lips which is where they create a thick scar line in the groove I can actually feel a hard line where the shape of the abdominals are."
Coupland admits the surgery did cost "quite a lot of money", but in comparison to some enhancement surgeries, it is affordable.  He also suggests that contrary to women, there are not a lot of ways men can enhance themselves when they go out, besides dressing up and doing their hair.  Women on the other hand can apply fake tan, put extensions in, layer on the makeup and throw on a push up bra.
For four to six weeks post operation, Coupland was required to wear a specially designed corset to achieve maximum results. And while he is still waiting for some sensation to return in his chest, Coupland is very happy with the results and would recommend the abdominal etching for those wanting to achieve a permanent six-pack.
Coupland's new partner Melanie is also very happy with the results although was sceptical to begin with.  The father of two admitted his obsession with the gym and desire for the perfect physic destroyed his relationship with his six and seven-year-olds boy's mother.
"We had two children together but we ended up splitting up due to my commitment to the gym" says Coupland.
He is determined to not make the same mistakes of spending copious hours training instead of with his family.  "This procedure I felt has just given me a little bit more family time, time off the gym, a bit more of a normal life."
Coupland is however realistic and knows, like many body enhancement surgeries, you have to work hard to maintain the results. "It's not a miracle…you've still got to have a level of muscle and tone underneath."
His message to those men considering the abdominal etching procedure is to make sure the motivation is there to continue the level of fitness required.  "Those thinking of doing this need to make sure this is something that you're willing to do and maintain and it's not as a remedial measure it's an enhancement" Coupland says.
Similar to cosmetic enhancing surgeries like liposuction, if you don't maintain a healthy diet and continue with frequent exercise, there is high chance you'll return to your pre-surgery figure.  For now though, Coupland is proudly showing off his defined six pack thanks to the cosmetic surgery procedure.