While many men look forward to swimming, surfing or exercising without a shirt on, for some men these activities can fill them with dread and the fear of being embarrassed. Gynecomastia (man boobs) is a common condition where men develop excess breast tissue and glandular tissue.
If you're done with hiding your man boobs by wearing baggy tops or even taping your male breasts down, male breast reduction surgery may be the solution you're searching for. For over 10 years, Cosmos Clinic has treated thousands of men with cases ranging from mild to moderate and severe.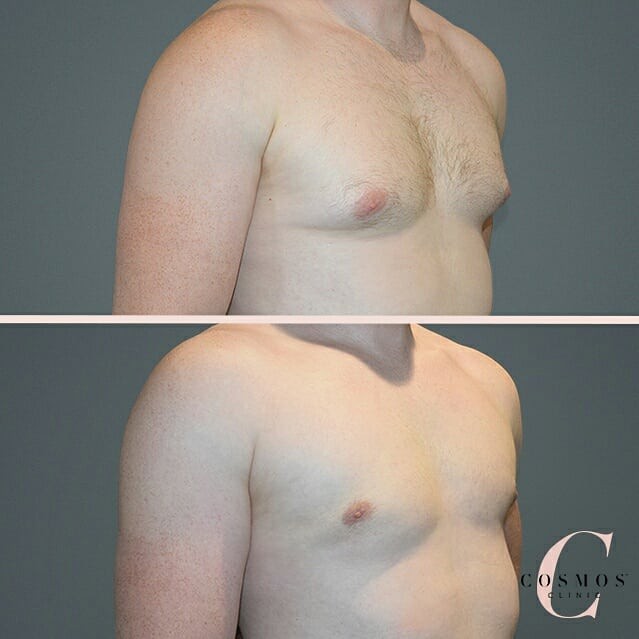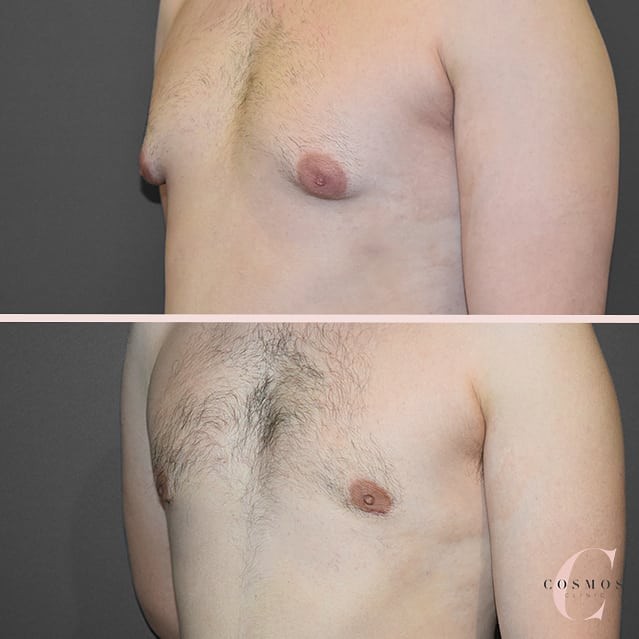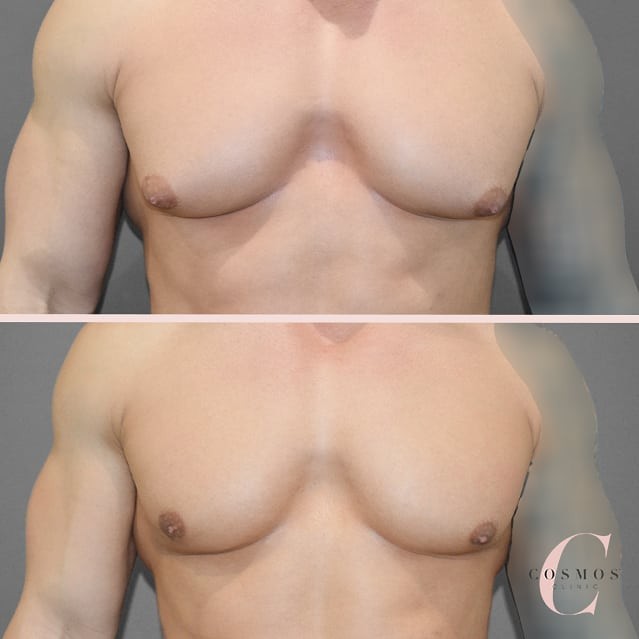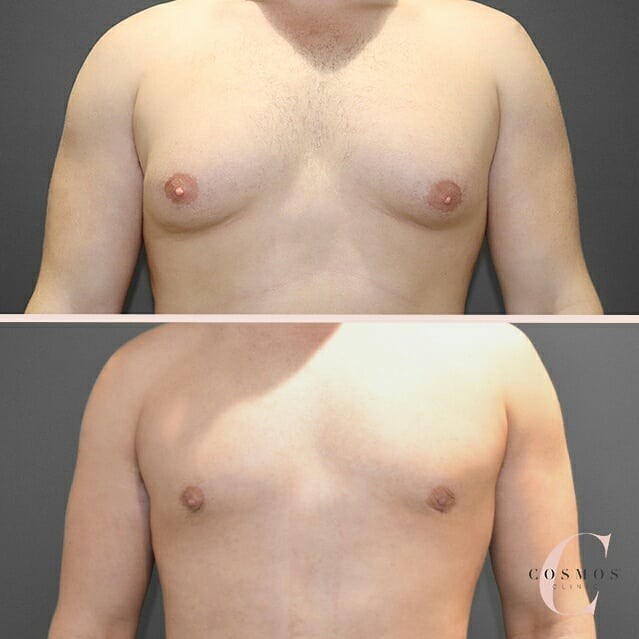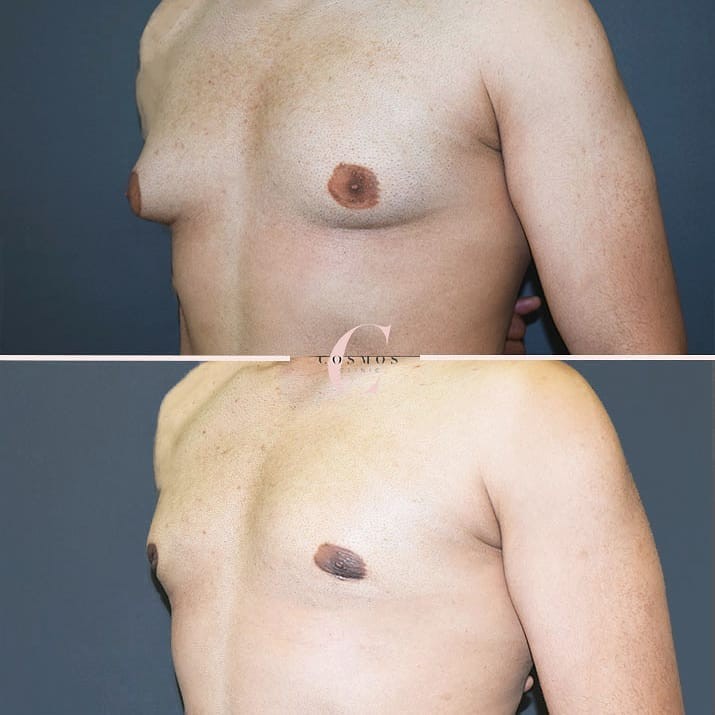 What are man boobs, also known as gynaecomastia?
Man boobs or "moobs" for short affect men all around the world. It doesn't matter whether you spell it gynecomastia or gynaecomastia, the embarrassment, shame and effect on your self-esteem remains the same. Gynaecomastia occurs when you develop excess fat, glandular tissue and excess breast tissue. This can happen in one breast or both. Common in many ages, breast size enlargement can develop as a result of:
Weight gain in your chest area
Hormonal changes or hormonal imbalance
Hereditary conditions
Obesity
Excessive alcohol consumption
Disease including liver disease
Use of some prescription medication or recreational and/or non-prescription drugs including marijuana and anabolic steroids.
If you've been exercising hard and making other lifestyle changes but your man boobs aren't shifting, we can help. Male Gynecomastia surgery is one of the most common cosmetic surgery procedures Cosmos Clinic performs. This day surgery can remove both fat, excess skin and glandular tissue. You will not need to have a general anaesthetic.
What is the effect of having man boobs?
Men with gynecomastia not only have to deal with their physical appearance, but many will also develop low self-esteem and become self-conscious. Male boobs can lead to issues that include:
Making excuses to avoid going to the beach or swimming pool.
Taping down your chest.
Feeling shame or embarrassment about your chest size.
Avoiding taking your shirt off or getting changed in front of people.
Wearing multiple shirts to camouflage your man boobs, even when the temperature rises.
If your male breast tissue is impacting your life negatively, a breast reduction procedure can help.
How Male Gynaecomastia surgery is performed using Vaser Liposuction
Cosmos Clinic has been helping men remove their man boobs and regain confidence for over 10 years. By using Vaser Liposuction instead of Traditional Liposuction, our highly trained and experienced doctors can remove 90-100% of your man boobs. The amount of excess fat and glandular tissue we remove during this surgical treatment is dependent on the quality of your skin.
At the initial consultation with your doctor, they'll determine if you're a good candidate for this surgery. This takes into account:
Whether your condition can be corrected through diet and/or exercise.
If you smoke or take non-prescription or recreational drugs, including anabolic steroids.
Whether you have realistic expectations
If your breast development has stabilised.
The impact your man boobs are having on your self-esteem and self-confidence.
If you have any medical condition that could impair healing.
Performed in a day surgery under a light sedation, this cosmetic surgery uses local anaesthesia to numb the treatment area. Once numb, a small incision is made, and an ultrasound probe transmits ultrasound energy to separate the excess fat cells from your fibrous tissue. After your Male Boob Vaser Liposuction procedure, it's more difficult for fat cells to return to the treated area.
Some men with excess breast tissue also have a dad bod where your abdominals are more flabby than 6-pack.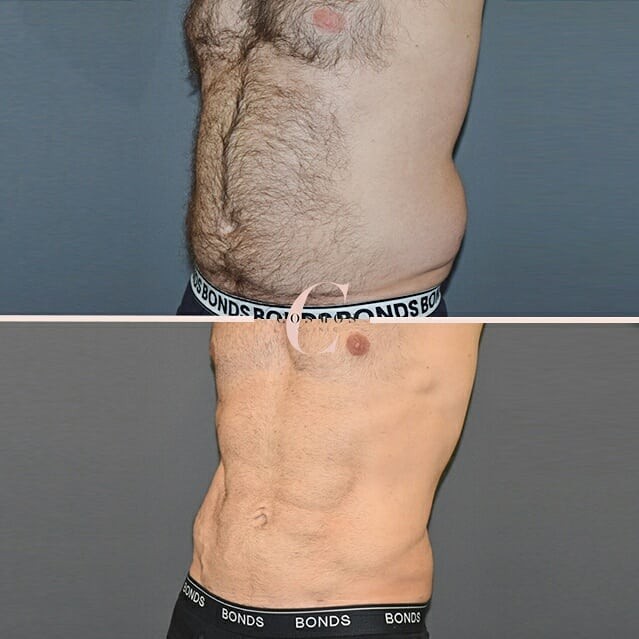 Other Cosmos Clinic Vaser Liposuction surgical procedures include male tummy liposuction that can be performed at the same time as male breast reduction surgery.
What to expect after male breast reduction surgery
Male boob surgery is a day surgery procedure, so you can go home afterwards. With minimal downtime required, most patients are back at work within 2-3 days. Minimal scarring will occur because only small incisions are used.
To reduce swelling and bruising and to improve skin retraction, you'll need to wear a compression garment for 3-6 weeks after Gynaecomastia surgery. Cosmos Clinic also provides post-op lymphatic massage by your onsite Physiotherapist or Nurse. By having 2-4 treatments over two weeks, your male boob surgery results will be even better. You'll see optimal results from your Gynecomastia surgery after 6 weeks with a flatter chest.
Questions to ask about your male breast reduction surgery
Before you book your man boob surgery in, we suggest you get answers to the following questions from your doctor or liposuction expert:
How many years of plastic surgery experience do you have?
What certifications do you hold?
How many Gynaecomastia surgeries have you performed?
Do you have up to date before and after photos of Gynaecomastia surgeries?
What is the recovery like after man boob surgery?
Where to get male breast reduction surgery
If you feel self-conscious about your protruding or enlarged breast tissue, male breast reduction surgery can help. With over 10 years of experience, Cosmos Clinic has performed over 20,000 liposuction and fat transfer procedures at our clinics in Sydney, Adelaide, Canberra, Gold Coast and Melbourne.
Gynaecomastia surgery may be appropriate if you:
Avoid developing relationships because you're uncomfortable about how your chest appears.
Have tried to exercise and diet, but the man boobs don't change in size.
Experience low self-esteem or are embarrassed about displaying your chest.
Avoid wearing tight or close-fitting shirts.
Cosmos Clinic can help remove your man boobs and improve your confidence and self-esteem. Simply send us a message online with a picture and your concerns. We'll then send you a fact sheet and more information for you to consider. To find out if male breast reduction surgery is appropriate, you'll then meet one of our doctors to discuss what man boob surgery involves. A referral is not needed.
At this initial consultation they'll:
Evaluate your medical history including any risk factors or pre-existing health conditions.
Discuss your treatment options and the doctor's fee.
Examine your breasts and fatty tissue to determine the size, shape and skin quality before taking detailed measurements of your nipples and areolas.
Discuss likely outcomes for your gynecomastia surgery.
Explain what the day surgery will be like including the anaesthesia used and when you can resume normal activities.
In some cases, you may choose to have additional Vaser Liposuction procedures at the same time that could include male tummy liposuction, calf contouring or lower face liposuction.
Find out how we can help you get rid of your man boobs. Contact us here.