In recent weeks there has been a spate of media attention on the expectations for women to regain their pre-baby body. With her husband at her side, holding her newborn baby and future King of England, Kate Middleton proudly waved to the watching world from the steps of St Mary's Hospital.

Radiant and beaming with pride it had been a mere 24 hours since she had given birth to one of the most anticipated royal births in modern history. So why did bloggers, journalists and celebrity commentators collectively gasp and then commence to clog all realms of the Internet and social media? Instead of cooing over the adorable future King, they were aghast at the very visible baby belly Kate Middleton was displaying. This worldwide reaction to Kate Middleton's post-baby body is a reflection of where society stands today on the expectations of women post delivery.
The pressure to lose the baby weight and appear impossibly slim moments after birth is both unrealistic and unachievable. Is it anyone wonder Kim Kardashian is still yet to be seen after giving birth two months ago? Rumours are she is on the treadmill every day and I don't blame her! The press, social media and even friends and family can crush an already hormonal woman post birth with the slightest comment about her weight. So when Kate Middleton walked out of that hospital just one day after her baby was born, she bravely publicised the very normal appearance of what a real post-baby belly looks like.
But what if you aren't in the public eye, have had your children, yet feel like Kate Middleton with the world discussing why you don't have a six-pack an hour after giving birth? What are your options if you have waited a sensible amount of time but still feel that your post-baby body is less than stellar?
Treatments for post-baby bodies are a sensitive issue as the pressure to bounce back is already out of control. At Cosmos Clinic, we don't recommend any procedures until you have waited at least six months after giving birth. Once you have allowed yourself this time to fully recover and you are ready to tackle your post-baby body woes there are a number of treatment options.
The Tradition Approach
A Tummy Tuck is a highly effective treatment to address the stomach concerns many women face after babies. A more invasive procedure than Liposuction, a Tummy Tuck is best done once you have finished having all your children. Technically known as Abdominoplasty, this procedure removes loose skin and excess fat whilst at the same time tightening the abdominal muscles and will leave you with a low thin scar that runs from hip bone to bone.  Tummy Tucks deliver fantastic results for women who suffer from a bulging abdomen due to abnormal stretching of the muscle and skin. The downside: recovery does take 2-3 months.
Can't Afford the Downtime?
Liposuction is another option to treat the dreaded "Mummy Tummy". This minimally invasive procedure is used to reduce fat deposits in the abdominal area and tighten loose skin post-pregnancy. It can treat a myriad of post-baby body concerns and is a walk in and walk out option with minimal downtime. It can be used to decrease residual post pregnancy fat, tighten loose skin, improve the appearance of stretch marks and create a balanced and proportionate figure. "Mummy Tummy" Liposuction requires only mild sedation and most patients returning to normal activities the following day. This treatment is also an option if you are considering having more children in the future.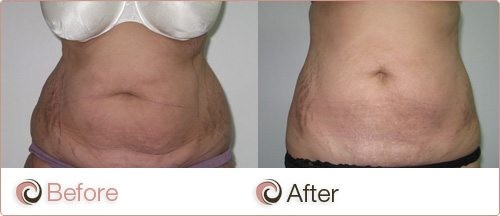 Every woman should be proud of her spectacular achievement creating another life without feeling guilty reaching for a celebratory Tim Tam. That special time after giving birth should be focused on the joy your new baby brings and not on fitting back into your skinny jeans. But once you have allowed your body time to recover and if you still can't shift that post-baby belly bulge Cosmos Clinic is here to help.
http://youtu.be/MJy86t1mgEo