The Brazilian Butt Lift, invented in Brazil and now becoming more and more popular in Australia. Cosmos Aesthetics Sydney reports a huge increase enquires about this particular body contouring surgery in the last two years. The trend is attributed to the presence of public figures in the media and to the rise of social media, especially Instagram.
But it's not just women who are looking to enhance the shape of their derriere, this cosmetic procedure is becoming increasingly popular among men. Dr Ajaka of Cosmos Aesthetics reveals that about 10-15% of patients receiving Brazilian butt lift procedures at Cosmos Aesthetics are men. When asked why he thinks the BBL has become more popular amongst men Dr Ajaka explains that, "Instagram is a big factor, this social media platform is very visual. And it's a follow-on effect from the rise of the BBL in females".
What's Involved in A Brazilian Butt Lift?
Brazilian Butt Lift surgery does not involve butt implants. Instead, the surgical procedure is done by fat transfer. Unwanted fat from other parts of the body (typically the tummy, thighs or love handles) is removed via VASER liposuction, washed with antibiotics and reinjected back into the buttocks.
VASER Liposuction uses ultrasound technology which helps to break up the fat tissue which makes the procedure a lot gentler than with traditional liposuction.
You get the added bonus of slimming down areas that carry some excess fat; you can sculpt a flatter tummy at the same time. The removal of fat in neighbouring areas such as the love handles, and thighs also helps to make the bum look bigger.
Men usually ask for a bubble shape, and women usually request a more "S" shaped bum. So what are realistic expectations of a Brazilian Butt Lift Procedure and how does one explain to a doctor the size they envisage for their behind? There are three sizes, based on how patients tend to describe how they want their bum to look:
The Natural Shape
The Enhanced Shape
The Full Shape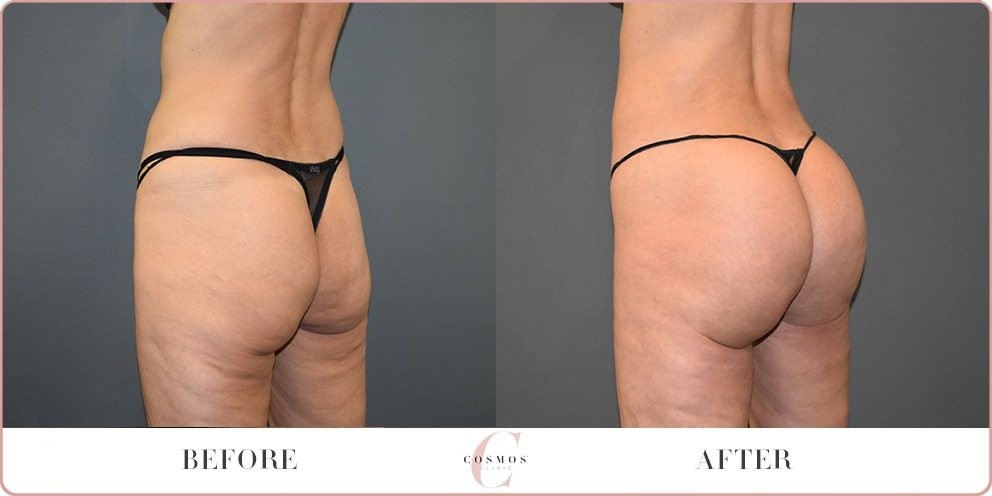 The final result can be seen around 6 weeks after surgery, and Brazilian Butt Lift results are permanent. Due to the fat grafting, if you put on weight it will show in the areas that have more fat cells, as the body doesn't make new fat cells when you put on weight, the existing fat cells simply expand.
Aftercare/Downtime of BBL
A Brazilian Butt Lift requires patients to take a week off work. The areas where the fat came from can be sore for a week or so after the treatment. It's also very important not to sit on the buttocks for two weeks, because of the pressure can kill the newly placed fat cells and alter the shape, pressure also increases the risk of infection.
Patients can sit down on their thighs, leaning forward, and special pillows are available to help patients sit without putting weight on their bum. Cosmos Aesthetics includes regular follow up as part of aftercare, checking patients every day for the first week to make sure there are no signs of infection.
Here is a before photo and a photo taken immediately after Brazilian Butt lift procedure performed by Dr Erfan from Cosmos Aesthetics Adelaide
https://www.instagram.com/p/BQKkSAXjnXu/?hl=en&taken-by=cosmosclinic
Risks/Side Effects of BBL
There is some swelling for the first two weeks and sometimes bruising in the treatment area although when the procedure is done using VASER Liposuction, it is relatively gentle.
The risk of infection is avoided by washing the fat after it is extracted from the body and before it is injected into the buttocks. Patients are also given antibiotics to take post-treatment and are closely monitored.
You'll find more info on Brazilian Butt Lifts on our Brazilian Butt Lift Procedure page (includes more before and after photos) and be sure to watch this video clip for the scoop on the Brazilian Butt Lift trend: