For the past 10 months, Cosmos Clinic has been trialling the J-Plasma Renuvion device and we're thrilled with its potential. Used in conjunction with Vaser Liposuction, J-Plasma Renuvion is a minimally invasive skin tightening technology for the face, neck and body.
Watch the video below to find out more.
What is J-Plasma Energy?
The J-Plasma uses cold plasma energy to contract and tighten loose skin. It involves the 4 states matter: solid, liquid, gas and plasma.
The plasma passes through an electromagnetic field to create ionised helium gas particles that are delivered through the J-Plasma skin tightening device. Extreme heat is produced followed by extreme cooling.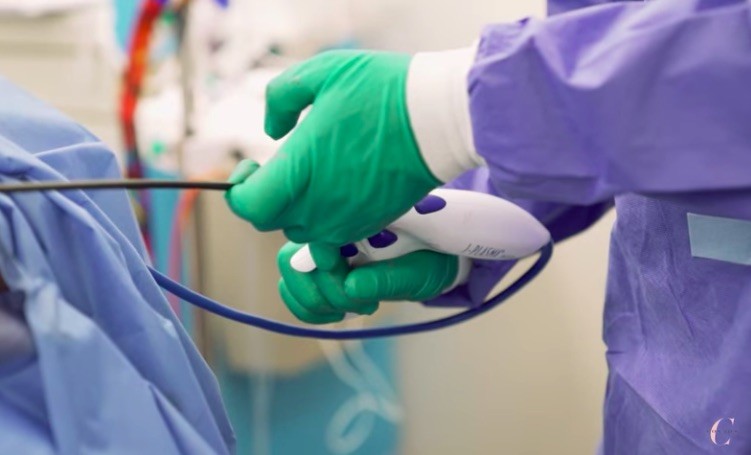 As the cold plasma is cooler than current technologies such as laser resurfacing, there is reduced risk of tissue trauma and improved skin resurfacing results. And being very stable, the particles can be created using low energy to help improve the precision and delivery of the technology.
What does the J-Plasma Procedure involve?
As Dr. Joseph Ajaka explains in this video, the J-Plasma advanced energy device needs to be used in conjunction with the Vaser Liposuction tunnelling device.
The J-Plasma skin resurfacing technique is used on top of the Vaser Liposuction and instantly results in skin contraction.
The cosmetic surgery procedure involves applying a numbing solution to the treatment area and using the Vaser to melt the fat and tighten the skin. The J-Plasma Renuvion device is then used to further tighten the area.
Following the cosmetic surgery, the patient will wear a compression garment for six weeks to ensure optimal results and speed up the recovery time.
Is it pain-free?
The J-Plasma Renuvion is no more painful than having a traditional liposuction procedure and recovery takes about 6 weeks.
A noticeable difference of the J-Plasma technology is seen almost immediately, however, the results will continue to improve up to 6 months as the swelling subsides and the new collagen fibres form.
Who is a good candidate?
A J-Plasma treatment is the next generation in skin tightening and is a great alternative for those who don't want to undergo more invasive cosmetic surgery procedures such as a tummy tuck or a thigh lift. With no need for large incisions, the J-Plasma treatment produces great results without a lengthy recovery time or visible scarring one can expect from invasive surgery.
The J-Plasma Renuvion skin resurfacing and tightening procedure is ideal for those who struggle with mild-moderate loose skin as a result of weight loss, pregnancy or ageing.
For pricing details, please visit our pricing page.
To find out if your a good candidate for J-Plasma, contact the Cosmos Clinic team here or call us at 1300-138-797.