The U.S. health authority have recently voiced a strong warning about the dangers of medical tourism.  This follows a spate of American women being infected by a disfiguring bacteria after undergoing cosmetic surgery in the Dominican Republic.
21 women appear to be infected with mycobacteria, a type of germ difficult to treat, after visiting five different plastic surgery clinics in the Caribbean nation.  A report from the Centres for Disease Control and Prevention (CDC) states several of these women have been hospitalised and had to undergo surgery to treat the infection.
Medical officer and epidemiologist at the CDC's Traveller's Health Branch says that the mycobacteria are found worldwide, "usually infects the skin or lungs, and are responsible for chronic and recurrent infections that are notoriously resistant to antibiotics and difficult to treat".
The effects of infection can be devastating
Dr Chares Daley, an infectious disease physician said "it's a very mutilating infection. They're going for cosmetic surgery, and they will be scarred. It's a terrible scenario for people to go down there, get surgery and come back worse than they imagined they could be."
Swelling, pain and scarring were just some of the symptoms the majority of women experienced.  Dr Daley says it's often the case that these people infected with the bacteria require reconstructive surgery.
It's unclear how these women were infected, although Dr Daley suggests it's possible for the pathogenic bacteria to enter their plastic surgery wounds through contaminated tap water or the instruments used in surgery. Most of the women had liposuction and at least one other surgery such as breast augmentation.
Saving money on medical tourism could ruin the patients' lives
The CDC has warned about the risks of medical tourism where patient's travel to another country for medical or surgical procedures in order to save money.
"I would never go to one of those places" said Dr. Daly. "I know too many stories about what's happened to people. It has ruined people's lives."
A British study has also warned against the dangers of medical tourism, finding that people who lacked information and advice suffered consequences that ranged from troublesome to catastrophic.  Joy Williams was just one of the victims of medical tourism after flying from the UK to Thailand for a buttock augmentation.
After undergoing the cosmetic surgery, she developed an infection and died after receiving corrective surgery just a few days later.  The doctor was accused of carrying out the surgery in the evening without holding a licence.  He has since been charged with causing William's death.
More Australians are taking the risk
The trend of travelling overseas for a nip and tuck is not just occurring the U.S. According to the finding of a study by the University of Leeds it's estimated over 30,000 Australians are travelling overseas for cosmetic surgery every year.  These figures have most likely increased since the publication of the study in 2012.
Australian co-author Dr Meredith Jones from the University of Technology Sydney says people are opting for a variety of procedures overseas, with the vast majority of Australians heading to Bangkok, Phuket and Malaysia.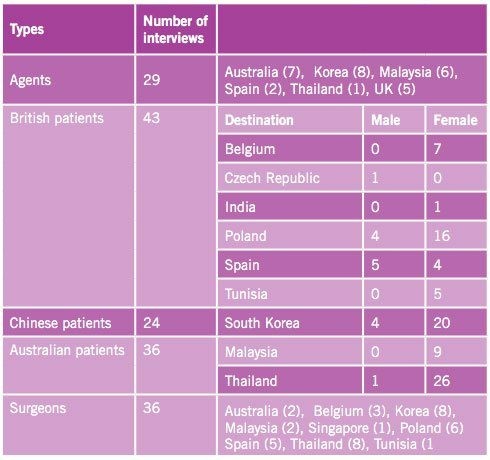 "Things like tummy tucks, so-called mummy makeovers, boob jobs, that's breast implants, as well breast reduction," she said. "All sorts of facelifts, otoplasty, that's having ears pinned back, rhinoplasties. And also, all of the so-called non-surgical procedures like Botox, Restalin, different sorts of fillers, different sorts of, you know, plumping up anti-ageing procedures."
Jones has identified two types of cosmetic surgery tourists heading overseas.  The first is those who have thought long and hard about having the surgery and are determined to get it done by either saving, borrowing at home or heading overseas.
The second type is the young woman under 30 who wants breast implants. Beyond potential cost savings, part of the appeal is she'd be able to travel in a group.
"It was the whole package that they were buying, that is, new breasts, a great holiday, travelling with like-minded people," Jones says.
Perth Dr Glenn Murray has plenty of experience with reparative surgery from botched overseas jobs and is blunt about the risks people are taking.
"The Third World is called the Third World for a reason," he said. "If you can't drink the water, why would you risk your life there?"
The main risks you're taking if you consider cosmetic surgery overseas
The glossy holiday brochures and the attraction of recovering poolside after your cosmetic surgery sounds great, but the reality can be quite different.  The risks of travelling overseas for surgery are substantial with cases of infection, botched jobs, and even death.
The main risks you take with medical tourism are:
The lack of regulations
The regulations overseas are very different to Australia, and in most cases are much weaker.  Although your doctor presents as qualified, you may not truly know his/her education, qualifications, or professional experience. In fact, he may not be a doctor at all.
Materials are not always regulated
In Australia, all materials used in cosmetic or plastic surgery must be of approved Australian standards.  Overseas, sometimes implant serial numbers are faked making you believe recognisable implants are being used.
Increased risk of infections, hepatitis and HIV
For many, having cosmetic surgery overseas heightens the risk of contracting an infection.  The CDC have stated there is a risk the doctors may share needles between patients, transmitting diseases such as hepatitis and HIV. The medication used to ensure infection may be counterfeit or of poor quality increasing the risk of infection.  And blood supply is mostly from paid donors and often not screened, which will again increase the risk of HIV and infections.
Post-surgical complications
If the patient experiences post-surgical complications due to a botched job, they may be left with no choice but to undergo emergency surgery with the same doctor or to have reparative surgery when they return home.  In the event, the patient is travelling a long distance shortly after the surgery, the risks of developing potentially fatal conditions such as deep vein thrombosis or pulmonary embolism are increased.
Undergoing cosmetic surgery in Australia may not have the same appeal as a tropical holiday and may be more expensive, but it's definitely a safer option.  The risks of botched surgery and life-threatening complications are simply not worth it.  Have your cosmetic surgery in Australia and then once healed, book your tropical holiday to show your new figure off.
If you're considering undergoing overseas cosmetic surgery before you book your flight speak with our consultations at Cosmos Clinic.  You'll be able to receive our advice and discuss your surgical options before you take any risks you may regret.